Leaf FILTERs in CHESTERFIELD MO - THE GUTTER COVER

TM
Why you need a leaf filters in Chesterfield, MO and the surrounding areas.
The Gutter Cover leaf protection system have been proven to be a significant investment for homeowners in Chesterfield, Missouri. Some leaf guards and leaf filters are no match for the Midwest region which frequently encounters heavy rains and strong winds, making it crucial to address the potential harm caused by clogged gutters. Thankfully, the market offers various leaf guards and gutter covers that can prevent such issues, significantly simplifying your life. Now, you have the opportunity to acquire a leaf filter in Chesterfield, MO with The Gutter Cover company.
Maintaining Gutter Cleanliness The primary purpose of leaf guards and gutter covers is to block debris from entering your gutters. This includes leaves, twigs, and other forms of accumulation over time. The risk of clogging can lead to water overflow, resulting in damage to your roof, siding, and foundation. Furthermore, blocked gutters can foster insects and pests, posing health risks to your family.
Leaf filters in Chesterfield MO
Mesh-Style Leaf Filters are among the most favored options for leaf guards and gutter covers is the mesh screen. Typically constructed from aluminum or plastic, these screens are fitted over the gutter tops. The mesh enables water to flow while purportedly preventing debris from entering.
However, it's important to acknowledge that these filters can clog and lose effectiveness over time. The mesh tends to become congested with smaller debris, causing clogs. Leaves, when compacted, break down and form a muddy paste that impedes the mesh screen's functionality.
While these screens might appear cost-effective and suitable for DIY installation, we strongly discourage this approach. Over time, you'll find yourself repeatedly replacing these screens, leading to escalating costs and growing risk as you grow older and are climbing ladders to replace the covers.
Permanent Solution - Leaf filter in Chesterfield MO
For homeowners who want a more permanent solution, there are also solid gutter covers. These covers are typically made of aluminum or plastic and are designed to fit over your gutters. Solid covers are more expensive than mesh screens, but they offer superior protection against debris and require very little maintenance.
When choosing a leaf guard or gutter cover, it is important to consider the climate in Chesterfield MO. The area receives a moderate amount of rainfall each year, but heavy storms are not uncommon. Additionally, the area is prone to high winds and severe weather. You will want to choose a leaf guard or gutter cover that is durable and can withstand these weather conditions.
Leaf guards and gutter covers should be installed by a professional. This will help ensure that your gutters are functioning properly and that there is no damage to your roof.
In conclusion, leaf guards and gutter covers are an important investment for homeowners in Chesterfield, Missouri. They can prevent damage to your home and make your life easier. There are a variety of options available, including mesh screens and solid gutter covers. When choosing a leaf guard or gutter cover, be sure to consider the climate in Wildwood and choose a product that is durable and can withstand severe weather.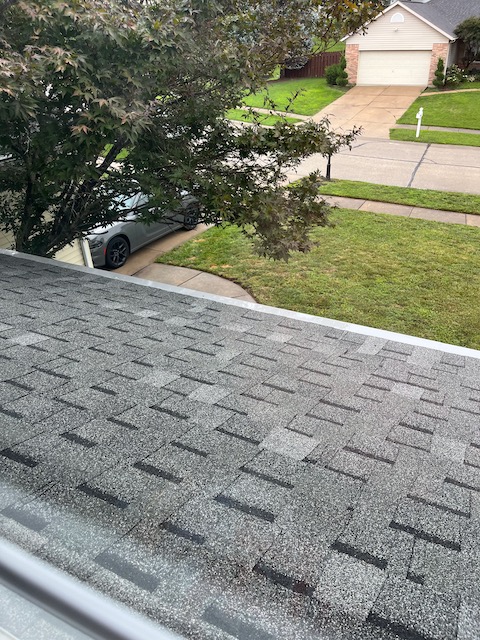 Our Gutter Covers are Built for Quality & Durability
The Gutter Cover™ is made from heavy-duty, .027 gauge material, just like your existing gutter. This contributes to the durability of the product — and is one of the reasons we stand behind it.
Surface Tension Keeps Debris Out – the Perfect Leaf filters in Chesterfield MO
The science of surface tension keeps your gutters clean, clear, and flowing. This product is laboratory-tested to control a simulated sheeting of rainfall equivalent to 15 inches per hour – way more than enough to control capacity. With our uniquely patented leaf guard Gutter Cover™ solution, gutter cleaning will become a thing of the past.
Designed To Match Your Roof & Gutter
This product comes in many colors to create a seamless look with your roof and gutter. If we don't have the perfect color in stock, we can order it for you! Here are the colors we offer:
Musket Brown
Royal Brown
Desert Tan
Charcoal
Pale Gray
Dove Gray
Green
Red
Copper
Bronze
Dark Bronze
Asphalt Shingles: Asphalt shingles are the most common roofing material in many parts of the United States, including Chesterfield. They are affordable, durable, and come in a wide range of colors and styles.