Best gutter guards in Wentzville MO - THE GUTTER COVER

TM
Why you need the best gutter guards in Wentzville MO and the surrounding areas.
The Gutter Cover leaf protection system has been shown to raise a substantial value for homeowners in Wentzville, Missouri. Some leaf guards and filters fall short when faced with the frequent heavy rains and strong winds of the Midwest region. This underscores the necessity of addressing potential issues stemming from clogged gutters. Fortunately,  we offer secure gutter guards in Wentzville and the surrounding areas.
Keeping Gutters Clean with gutter guards in Wentzville
The fundamental role of leaf guards and gutter covers is to obstruct the entry of debris into your gutters. This encompasses leaves, twigs, and other forms of accumulation over time. The threat of blockage can lead to water overflow, contributing to damage affecting your roof, siding, and foundation. Moreover, obstructed gutters can provide a breeding ground for insects and pests, presenting health hazards for your family.
Mesh-Style Leaf Filters stand out as a preferred choice among leaf guards and gutter covers—specifically the mesh screen. Typically constructed from aluminum or plastic, these screens are positioned atop the gutters. The mesh facilitates water flow while ostensibly preventing debris from infiltrating.
However, it's vital to recognize that these filters can suffer from clogging and diminished efficacy over time. The mesh tends to become congested with smaller debris, resulting in blockages. Accumulated leaves break down into a muddy substance, impeding the functionality of the mesh screen.
Despite their initial appearance as cost-effective and suitable for DIY installation, we strongly advise against this approach. As time progresses, you'll likely encounter the need to repeatedly replace these screens, leading to escalating expenses. Additionally, the risk increases as you age and find yourself ascending ladders to replace the covers.
Permanent Solution - gutter guards in Wentzville MO
For homeowners who want a more permanent solution, there are also solid gutter covers. These covers are typically made of aluminum or plastic and are designed to fit over your gutters. Solid covers are more expensive than mesh screens, but they offer superior protection against debris and require very little maintenance.
When choosing a leaf guard or gutter cover, it is important to consider the climate in Wentzville MO. The area receives a moderate amount of rainfall each year, but heavy storms are not uncommon. Additionally, the area is prone to high winds and severe weather. You will want to choose a leaf guard or gutter cover that is durable and can withstand these weather conditions.
Leaf guards and gutter covers should be installed by a professional. This will help ensure that your gutters are functioning properly and that there is no damage to your roof.
In conclusion, leaf guards and gutter covers are an important investment for homeowners in Wentzville, Missouri. They can prevent damage to your home and make your life easier. There are a variety of options available, including mesh screens and solid gutter covers. When choosing a leaf guard or gutter cover, be sure to consider the climate in Wentzville and choose a product that is durable and can withstand severe weather.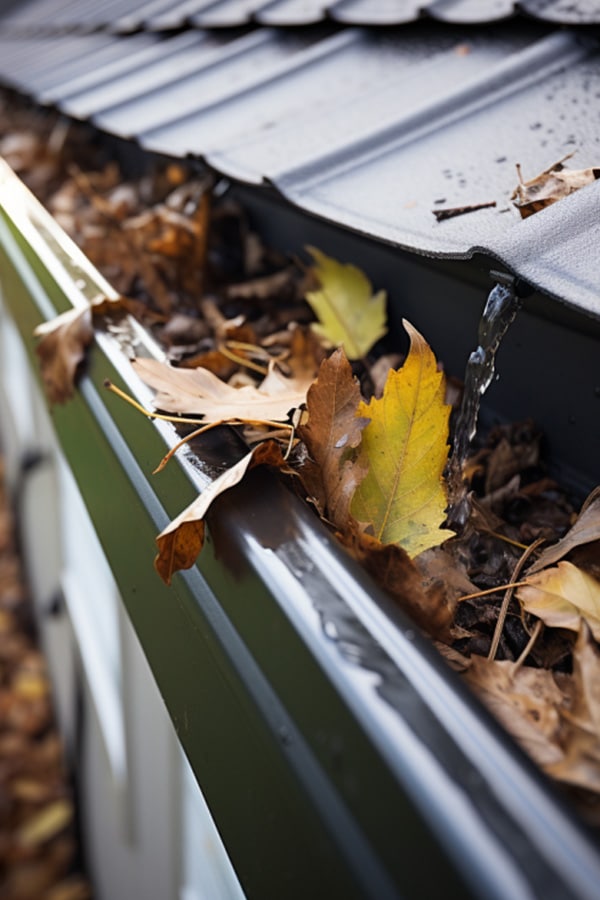 Our Gutter Covers are Built for Quality & Durability
The Gutter Cover™ is made from heavy-duty, .027 gauge material, just like your existing gutter. This contributes to the durability of the product — and is one of the reasons we stand behind it.
Surface Tension Keeps Debris Out – the Perfect gutter guards in Wentzville MO
The science of surface tension keeps your gutters clean, clear, and flowing. This product is laboratory-tested to control a simulated sheeting of rainfall equivalent to 15 inches per hour – way more than enough to control capacity. With our uniquely patented leaf guard Gutter Cover™ solution, gutter cleaning will become a thing of the past.
Designed To Match Your Roof & Gutter
This product comes in many colors to create a seamless look with your roof and gutter. If we don't have the perfect color in stock, we can order it for you! Here are the colors we offer:
Musket Brown
Royal Brown
Desert Tan
Charcoal
Pale Gray
Dove Gray
Green
Red
Copper
Bronze
Dark Bronze
Asphalt Shingles: Asphalt shingles are the most common roofing material in many parts of the United States, including Wentzville. They are affordable, durable, and come in a wide range of colors and styles.